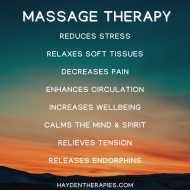 About
Hayden Therapies is run by Kim Hayden, a Sports Therapist based in Hampshire. Kim provides a range of health services to people from a variety of backgrounds, from hobbyists, professional sports persons to office workers & junior athletes.
Available services include Sports Therapy and Remedial Massage, Relaxation and Pregnancy Massage, Dry Needling, Posture Correction, Performance Support & Pain Management.
Kim also specialises in performance support for Equestrians. Ridden Biomechanics Sessions can be arranged directly if required.